The Zipper Garage
Welcome to my page of Stuff: a collection of things I like so much I park them in this snug and cozy little haven and show them off only to those who appreciate their usefulness and creative, stylistic horsepower (that'd be you lovely folks).
RUNNING GEAR
CHAMPION Pro Tech 1/4-Zip Pullover Jacket:  I absolutely love this pullover.  It's cozy-soft, supremely comfortable, keeps me warm but never sweaty and is so bright it's great for running in the dark.  It's a thoroughly respectable alternative to pricier models; I picked it up at The Sports Authority where it's selling for $32.99 (I actually paid far less because I joined their rewards program and the jacket was on sale at the time. BONUS!).  Also features a mini zip pocket on one side, about the right size for a Chapstick or a key, and of course, a lovely zipper garage up top.
BROOKS Glycerin 10 Running Shoes: Ah, my shoes.  I not only run in them, I live in them.  Completely comfortable, look snazzy, and provide the perfect support for my running.  I started out running in an old pair of New Balance sneakers and contended with quite a lot of foot pain.  I went to my local Fleet Feet store and spent an hour getting analyzed and trying on different shoes but these were love at first step.  Couldn't tell you what kind of feet I have or why they work so well for me, I just know they do.  And I have never been so enamored with a pair of shoelaces in my life.  Be prepared, though, this finery don't come cheap.  $140, but worth every penny.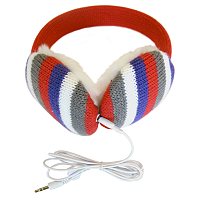 Lobers Fashion Earmuffs: Wired for Sound: I grabbed these beauties at Sam's Club for about $15.  I cannot stand earbuds, which never stay in my ears when I'm sitting still, let alone running, and I have to have my ears covered in cold weather, so this was a no-brainer.  It was a bit of a risk, because I worried that A) companies that make headphones are probably not experts in making earmuffs that actually cover your ears thoroughly enough to do much good and B) companies that make earmuffs are not technologically savvy enough to make headphones that actually deliver the rich, deep bass listening experience I'm used to.   I was pleasantly surprised on both counts.  Look for Lobers to supply all the spiffy and debonnaire yet functionally cool gadgetry in the next James Bond film.  You can find many other color combinations of the same product on Amazon, but be warned, you'll pay a steep $35 for them.